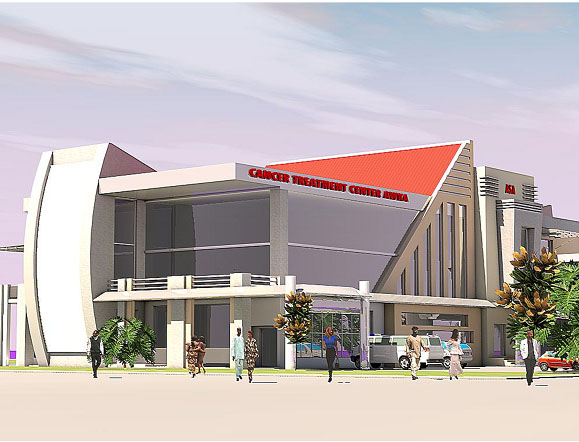 ASA Women USA Cancer Treatment Centre
ASA Women USA Cancer Treatment Centre
ASA Women USA, a registered 501-C-3 non-profit national organization, is headquartered in Laurel, Maryland in the United States of America, and dedicated to raising awareness and implementing programs to address health and educational issues that affect men, women, children, youth, and physically challenged individuals in Anambra State, Nigeria and in the USA.
Since inception in 2011, ASA Women USA has embarked on an annual signature fundraising event within Anambra State Nigeria and in the United States of America (5K Walk for Hope to End Cancer) aimed at raising funds to support the ASA Women USA Cancer and Maternal Health Biannual Medical Missions, Post Care of cancer patients and the proposed construction of the World Class Comprehensive Cancer Treatment & Research Center in Anambra State, Nigeria. To date, ASA Women USA has sponsored four (2012, 2014, 2016 & 2018) cancer & maternal health medical missions across the three Senatorial Zones in 27 Towns in Anambra State; Ticketed & medically treated over 25,000 underprivileged men, women, children & physically challenged individuals with over 150 successful surgeries; Donated diagnostic equipments, such as GE AMX4 Portable X-ray Machine, Pulse Oximeters etc. to General Hospital Onitsha for sustainability of the programs. ASA Women USA has sponsored the USA based  Breast Surgeons from MedStar Georgetown University Hospital Washington D.C  & Medical College of Wisconsin, Milwaukee, WI for free breast surgeries in Anambra State; Supported the medical bills of breast cancer patients in USA & in Anambra State; Sponsored the Feasibility & Viability studies of the Proposed Cancer Treatment & Research Center in Anambra State.
During our numerous cancer medical missions, we found that people died prematurely from preventable breast, cervical & prostate cancer due to lack of appropriate diagnosis, limited access to care, deficiencies in technical manpower, and lack of infrastructure and underreporting.
Cancer causes 1 in 8 deaths worldwide and is rapidly becoming a global pandemic. According to the International Agency for Research on Cancer, there were 14.1 million new cancer cases and 8.2 million cancer deaths in 2012. If rates don't change, the global cancer burden is expected to increase to 21.7 million cases and 13 million deaths by 2030. According to the World Health Organization (WHO), the toll of cancer and other chronic diseases is greater in low- and middle-income countries, like Nigeria, where people develop chronic diseases "at younger ages, suffer longer – often with preventable complications – and die sooner than those in high-income countries
Due to the above challenges, ASA Women USA is embarking on the building of a comprehensive world class cancer treatment & research center in Anambra State, Nigeria

Our strategic plan is intended to identify new and existing programs that drive the economy in Anambra State and provides conditions that can optimize Anambra's future long term economic health and serves as a platform to leverage funding, partnerships, programs with our private, public, and nonprofits partners. Our needs assessment will enhance Anambra's business climate, ensure the fiscal health of the State, and support economic growth in a manner consistent with our Comprehensive Cancer Treatment & Research Center's visions.
This proposed comprehensive Cancer Treatment & Research Center project is aligned with the United Nation's Millennium Development Goals (MDGs) for Nigeria and will be the first and the only Specialized Cancer Treatment & Research Center in the South East Zone of Nigeria. The Center will provide a full spectrum of cancer care including screening, diagnosis, chemotherapy, surgery, radiotherapy, patient follow-up, research, and palliative care.
We are grateful to you for looking at the possibility of funding our clinic construction project in Anambra State in Nigeria. We thank you also for taking the time to learn more about our services to the Nigerian community in USA and in Africa. We are asking you to invest in this important lifesaving project and look forward for a sustainable relationship.
We are available to meet with you and discuss our plans for the Center. You can email us at asawomen_usa@yahoo.com and visit our website anytime to view our past achievements www.asawomenusa.org.
PLS DOWNLOAD OUR CANCER TREATMENT CENTRE PROJECT
Respectfully yours,
Dr. (Mrs.) Anthonia Uche Umeh
Founder & National President