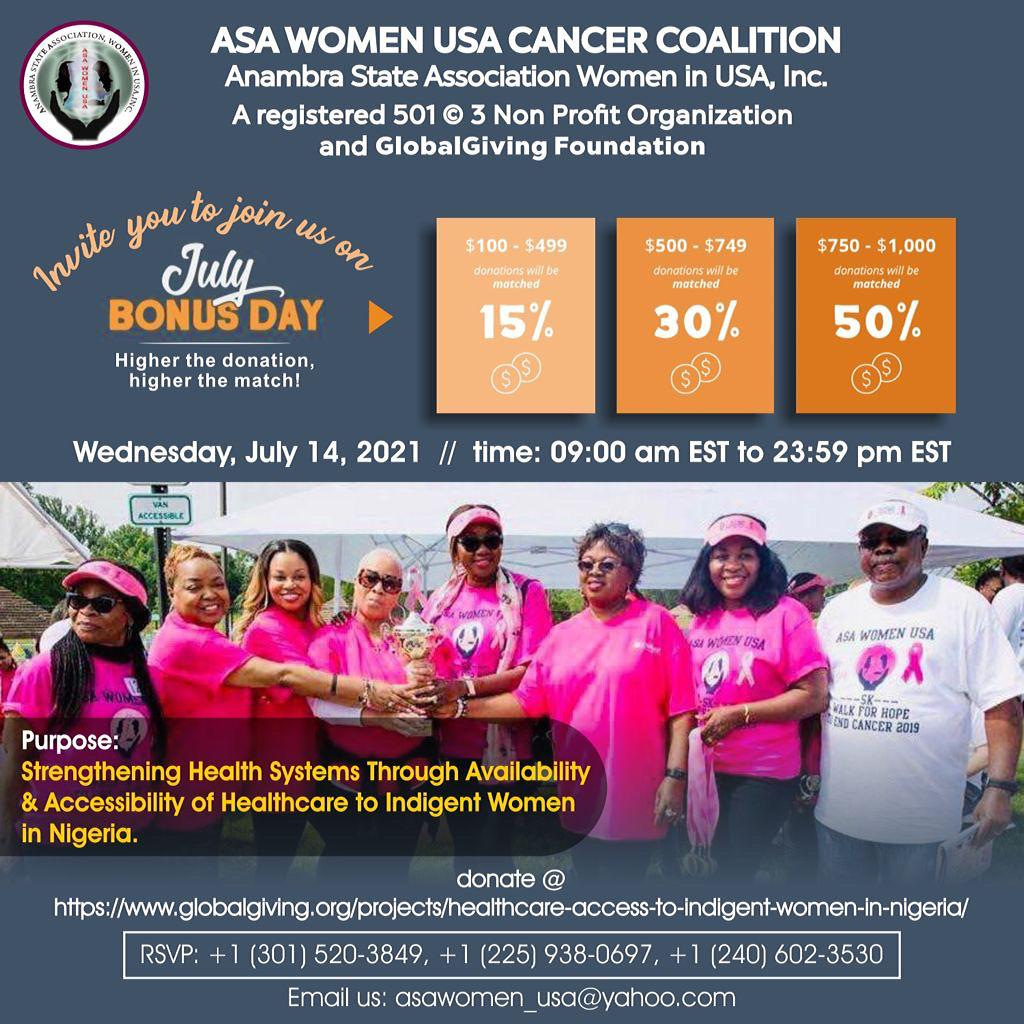 JULY BONUS DAY Campaign
Dear Sponsors, Friends and Well-wishers of Anambra State:
RE: JULY 14th     BONUS DAY PROJECT APPEAL
TIME: 9 AM EST – 23:59 PM EST
ASA Women USA Cancer Coalition has some big news: This year we're participating in JULY BONUS DAY Campaign on behalf of our Healthcare Access to Indigent Women in Nigeria project on GlobalGiving.
This project aims to engage members of our various communities in supporting the strengthening of health systems through availability and accessibility of healthcare to indigent women with cancer and maternal health issues in Anambra State, Nigeria. Over the course of 2020, deep-seated gender inequalities exacerbated the consequences of the pandemic for women around the world. For ASA Women USA's Healthcare Access to Indigent Women in Nigeria project, the pandemic meant the indigent cancer & maternal health women lacked access to quality health services, insurance coverage for routine and catastrophic health costs in a country with under-resourced healthcare system. Gender stereotypes also limited their ability to access healthcare services. Together with your support, we can play an integral part in moving our project forward based on 65: 35 ratio by:
1.      Supporting the establishment of International Cancer diagnostic & research Centre in Anambra State, Nigeria
2.      Strengthening the healthcare system for the indigent women with cancer and maternal health issues through the provision of State owned health insurance premium coverage, provide advocacy, cancer awareness & education
We at ASA Women USA Cancer Coalition have been empowering indigent women with Cancer & Maternal health issues through medical missions across the three Senatorial Zones in 27 towns in Anambra State with FREE breast, cervical & prostate cancer awareness, providing advocacy, education, screening, medically & surgically treated over 25,000 underprivileged persons and covered the hospital bills of the surgical patients during the coordinated post care medical missions at three major hospitals in Anambra State. ASA Women USA donated diagnostic equipments to hospitals. The most recent donation was to Anambra State COVID-19 fund, to bring palliative support to our indigent women at home and as part of her support to the State Government in the fight against COVID-19, and there is still so much to be done.
In order to support our project on healthcare access to indigent women in Nigeria, we are raising funds to enroll 100 indigent women with cancer & maternal health issues a year for 5 years in the State's Health Insurance Scheme, and support the establishment of International Cancer Diagnostic & Research Centre, Anambra State-Nigeria. We have been able to raise 50% so far. Our Goal is to raise the initial funding goal of $50,000 to begin the project this December 2021.
With your help, we can count on you as our Proud Sponsor/ Project Partner to support our work with a one-time gift from the table below on Wednesday, July 14th at 9 am EST, 8 am CST or 2 pm Nigeria. 
Your donation will go a long way and support our efforts in ensuring that women can access high-quality healthcare, and that those primary health needs particular to women and their families are addressed. This will promote economic productivity in the State and the Nation at Large
The best part is if you donate on July 14, donations of $100 and up will be eligible for matching funds from our partner, GlobalGiving! The higher the donation, the higher the match and the more we can accomplish together! Can I count on your support for this campaign?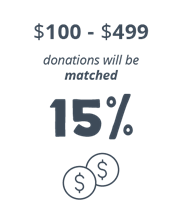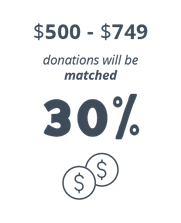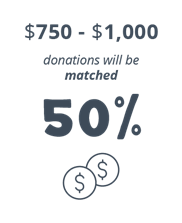 Donate @ https://www.globalgiving.org/projects/healthcare-access-to-indigent-women-in-nigeria/
Download Sponsorship and partnership letter here
Thank you for spreading the joy of giving. May God replenish your purse a hundred times over
Respectfully yours,
Dr. (Mrs.) Anthonia Uche Umeh
Founder & National President, ASA Women USA Cancer Coalition
Email: Ucheumeh16@yahoo.com, Phone: 301 520 3849
Dr (Mrs.) Josephine Okoronkwo-Onor
National General Secretary, ASA Women USA Cancer Coalition
Email: joearise@aol.com  Phone: 225 938 0697