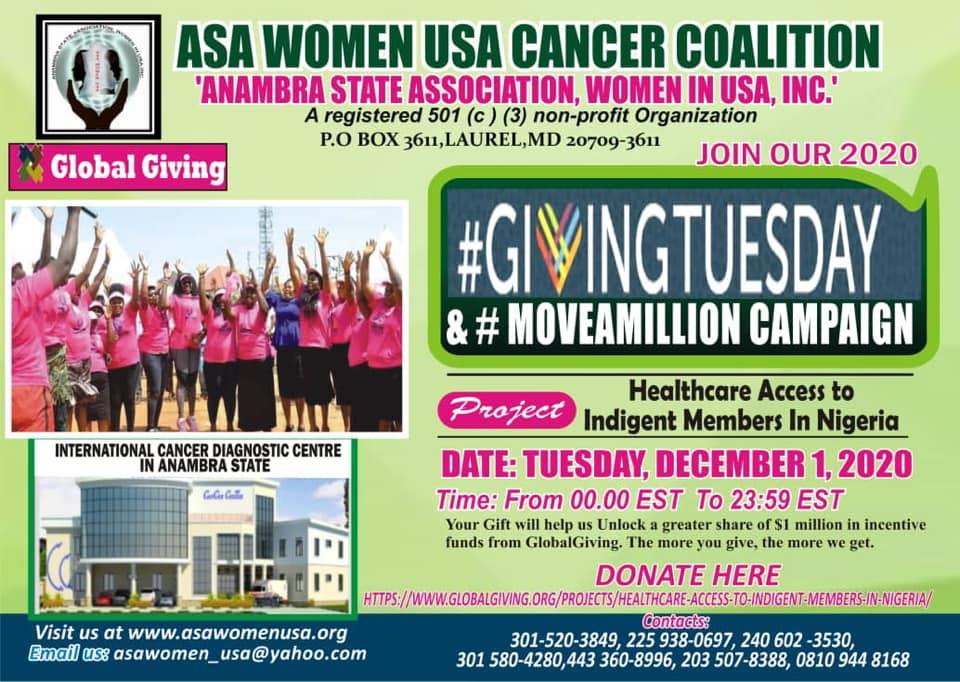 Global Giving's Giving Tuesday & Move A Million Campaign
Anambra State Association Women in USA, Inc. has some big news: This year we're participating in #GivingTuesday and #MoveAMillion Campaign on behalf of our Healthcare Access to Indigent Members in Nigeria project on GlobalGiving
DATE: December 1, 2020. TIME: from 00.00 EST Thru 23:59 EST.                                                    
GlobalGiving is giving away one million dollars to nonprofits around the world. Your gift will help us unlock a greater share of those funds! The more you give, the more we get—so there's no better day to spread the joy of giving.
We'd appreciate it, if you participated with us. The best way to do that is to share our cause on social media using the #GivingTuesday and #MoveAMillion!  Join millions of global givers on December 1, 2020.
Click the Link to Donate:
Your donation will help the adopted Cancer & Maternal Health indigent members of our various communities enrolled in the State's Health Insurance Scheme, while supporting the expansion of a community's health Centre into the International Cancer Diagnostic Centre in Anambra State-Nigeria
To stay updated about our progress toward our #GivingTuesday goals, follow us on facebook;  https://www.facebook.com/groups/ASAWOMENUSA
Together, we can make a great difference. Mark your calendars today!
Download Our Sponsors Document here