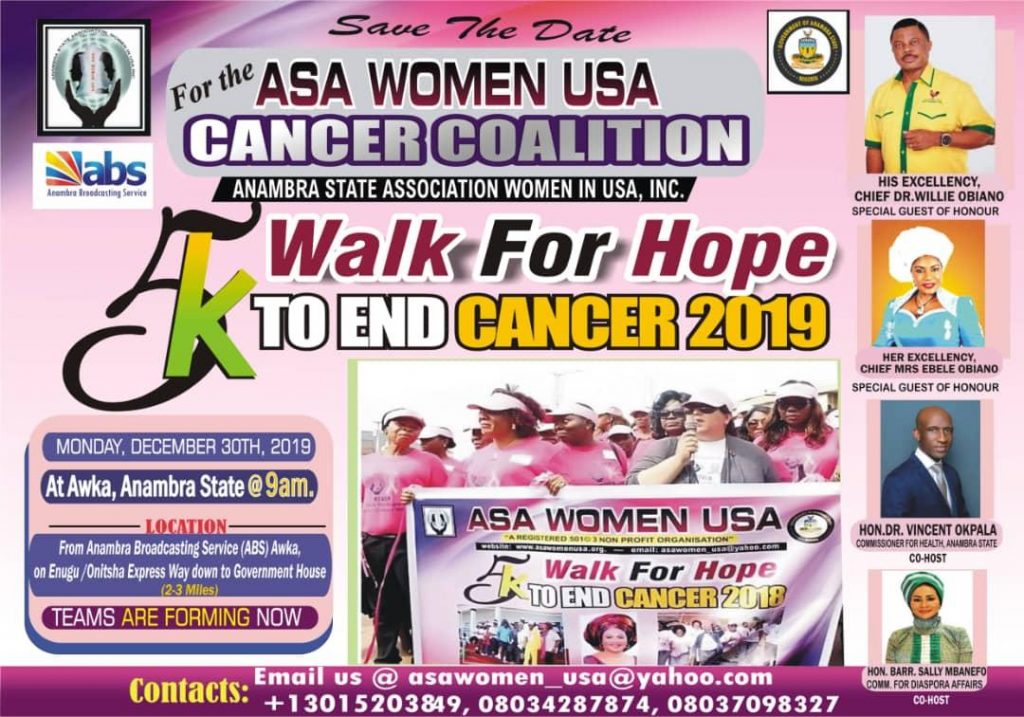 5K Walk/ Run for Hope to End Cancer, Awka 2019
Anambra State Association Women in USA, Inc. Known as ASA Women USA Cancer Coalition cordially invites you to their 5K Walk for Hope to End Cancer at Awka as their Sponsor/ Project Ambassador, to create increased interest and cancer awareness for this devastating disease in our communities here in USA and in Anambra State.
"Together We can Beat Cancer and Save Lives"
Date: Monday, December 30th, 2019 Venue: From Anambra Broadcasting Service (ABS), Awka, on Enugu/Onitsha Express Way down to Government House (2-3 miles). EVENT TIME: Registration begins @ 9:00 am; Walk starts at 10 am
Would you like to participate at the following levesl:
DONATIONS: N10K, N20K, N35K, N50K, N100K, N150K, N250K, 350K, N500K, 1Million and above
PURPOSE: To support cancer advocacy, education, awareness, construction of cancer treatment center and cancer & maternal Health medical mission to the under-privileged men, women, children & physically challenged individuals in Anambra State
Featuring Special Guests, Motivational Speakers, Award presentations, Donation of diagnostic medical equipment, launching of the cancer & maternal health medical mission souvenir booklet, heighten awareness and educate people about cancer health & fitness as well as to recognize and celebrate cancer survivors
Donations are made payable to ASA Women-USA, Direct Deposit to UBA BANK; Account #: 1017373349.
Email us at asawomen_usa@yahoo.com. Visit us at www.asawomenusa.org
Your collaboration with ASA Women USA Cancer Coalition will be greatly appreciated. It would be more favorable that you attend with your family and friends. Thank you so much for making a great difference in many lives influencing our community
For Sponsorships, Adverts and Teams, please Contact the following: Dr (Mrs.) A. Uche Umeh, National President (+913015203849) Mrs. Josephine Onor, National General Secretary (+912259380697) Mrs. Tina Enweze, National Fundraising Director (+913018060063) Dr. Joy Egbunike Chike-Obi, National Outreach Director (+16464899529) Mrs. Onyinye Umenweke, Nigerian Coordinator (08034287874) Mrs. Love, Chinyere Okafoagu, Assist. Nigerian Coordinator (08037098327)
See the attached flyer, Sponsorship Opportunities and Registration Form for Teams
DOWNLOAD Sponsorship Commitment form
DOWNLOAD Special Invitation Letter
Book Online
will be closed until date 2019/12/30 09:00