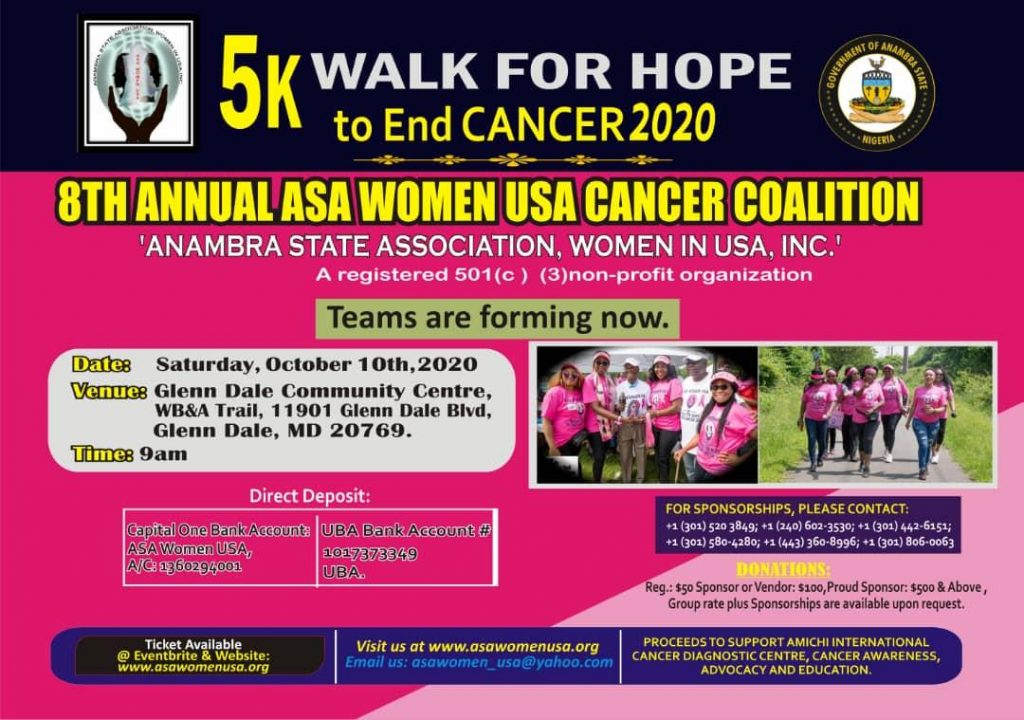 5K WALK/RUN FOR HOPE & FIGHT TO END CANCER IN MARYLAND 10TH OCT,2020
Join the 5K WALK/RUN FOR HOPE & FIGHT TO END CANCER IN MARYLAND 
ASA Women USA Cancer Coalition, a registered 501 (c ) 3 non profit organization, cordially invites you to their 8th 5K Walk/ Run for Hope & Fight to End Cancer 2020
Proceeds to support the building of the International Cancer Diagnostic Center in Amichi, Anambra State, Adoption of persons from various communities for Health Insurance Premium Coverage in the State's Health Insurance Scheme, Cancer Advocacy, Awareness and Education 
DATE: Saturday, October 10th, 2020
WHERE: Glenn Dale Community Center, 11901 Glenn Dale Blvd, Glenn Dale, MD, 20769
EVENT TIME: Registration begins @ 9:00 am; Walk starts at 10 am
Online Tickets can be purchased here. Register Early!
OR at Website donate button, www.asawomenusa.org and via mail to ASA Women USA, P.O.Box 3611, Laurel, MD 20709
Registration: $50; 
Sponsor/Vendor: $100 & up; Proud Sponsor: $500 & up      
Please email us for group rate, sponsorship package, adverts and vendor opportunities at asawomen_usa@yahoo.com
There will be ribbon cutting, fitness workout before the walk, 5K walk, media coverage, vendors, raffle drawing, motivational speaking, celebrate cancer survivors, award presentations, music, give away gifts, healthy food/drinks served at 9:30 am.
Join a Team, Participate as an individual or Form your own team!
R.S.V.P: 301 520 3849, 240 602 3530, 301 442 6151, 443 360 8996, 301 806 0063 & 301 580 4280