meet
the team -

- Circle - Individual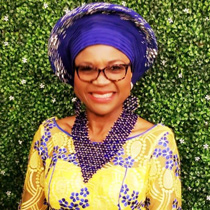 National Assistant Publicity Secretary
My name is Mrs. Obiageri Aginam. I am from Isochi in Abia State and my husband is from Oko in Anambra State. I am a mother of two children and family is very important in my life.
I want to join ASA Women USA Cancer and Maternal Health project because the beautiful and amazing jobs the ASA women are doing all over Anambra State. I have supported ASA Women USA through donations in the past but and I have been inspired and motivated by these wonderful women to be part of their team. I am also willing to take the National Assistant Publicity Secretary Position.
I am a dedicated person, outgoing and a team player. I have had good education and work experiences that will help me to function effectively in this new role.  My educational background are Master's degree in Public Administration and Healthcare Administration. I am a Licensed Vocational Nurse and currently working as a Pediatric Nurse. 
I have worked as Program Coordinator with American Lung Association for many years.
My job roles includes: Coordinating Antismoking Campaign (funded by State of California Grant) directed at South Bay African American Community.  Assisting Program directors in planning, implementing and evaluating the effectiveness of the program activities. Distributed educational material to churches and organizations through subcontractors. Organized and conducted Health Fairs where lecture, Newsletters, flyers, films and workshops were used to support participants' to quit smoking.
 I have also served as Financial Secretary for Umuanambra Cultural Association in Bay Area, Northern California.
Sincerely,
Obiageri Aginam "Orby Aginam (nickname)